If you are a Bitcoin and other cryptocurrency enthusiasts, there are a lot of positive developments happening. This Thursday Bitcoins traded at 1,20,00 INR/$1800 and broke all previous records. The reason behind this gain of more than 13000 INR/ $200 in last 15 days is the increasing demand from around the world. This recent trend added around $2 billion to bitcoin's market cap. The current market cap of Bitcoin is estimated to be around $28.86 billion.
The recent acceptance of cryptocurrencies by some of the powerful economies in the world is the number one reason for the price rise of Bitcoins and other altcoins. Japan decided on April 1 to recognize bitcoin as a legitimate currency.  The Australian government was not far behind in recognizing the potential of Bitcoin. Starting July 1 Australian government will be exempting double taxation along with trading and goods and services taxation on Bitcoin. Russia too is looking into legitimizing bitcoin.
It is also predicted that one Bitcoin will reach 2 lakh /$3000 by the end of 2017.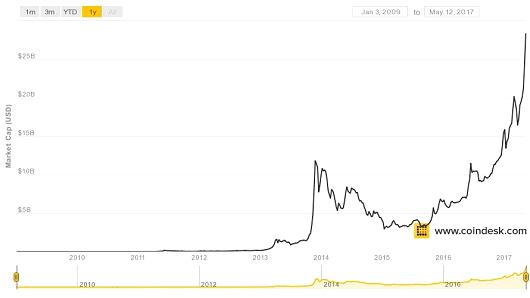 The Rise of BitConnect Coin (BCC)
In the cryptocurrency market, there are a lot of altcoins that have appreciated in value. One such altcoin is a UK base cryptocurrency start-up BitConnect Coin. It has declared an 18x rise in the value of BCC cryptocurrency. In less than seven months since its ICO in November 2016 BCC has risen its value per unit from $0.2 to $58 (7/7/2017). The huge acceptance of Bitcoin has mainly contributed to this upward trend of BCC and is expected to continue growing throughout 2017.
There are 28 million BCC and around 6 million pre-mined BCC coins are in circulation. BCC has also received a great response from markets around the world particularly the Asian market including India, Vietnam, Philippines, and Indonesia. This has also contributed to the rapid growth of BCC.
BCC has captured $49.7 million market cap and is currently a leading cryptocurrencies competing with other altcoins such as Lisk, Ardor, and Iconomi. BCC has a larger market cap than that of Iconomi which had raised more than $10.5 million in its first ICO.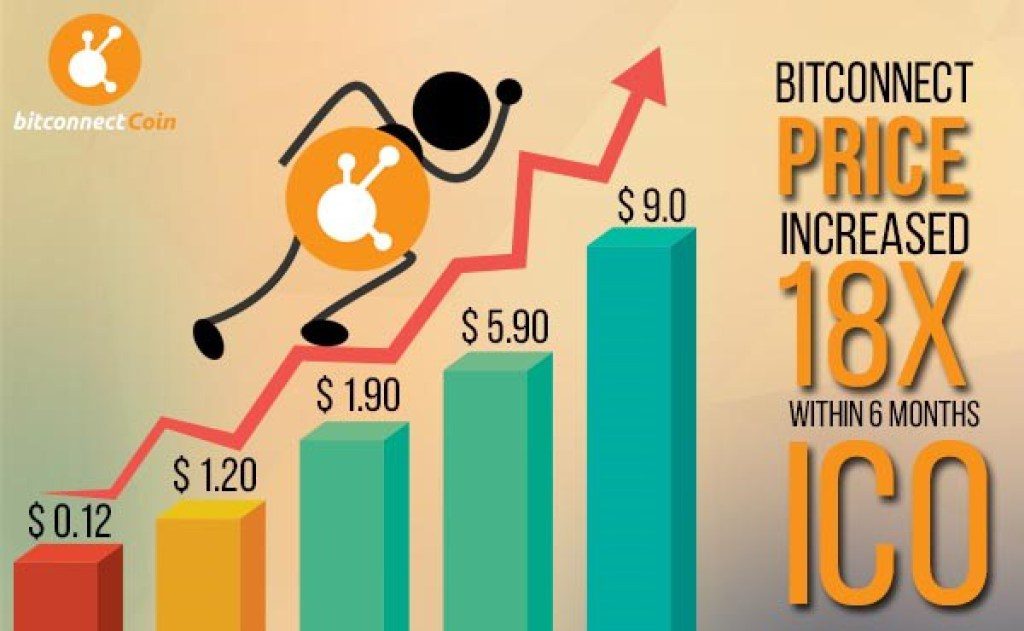 What is BitConnect Coin?
BitConnect coin or BCC is a community driven decentralised cryptocurrency, just like Bitcoin. Through this channel, people can accumulate and invest their capital in non-government controlled digital currency, and even earn a sizeable interest on investment. The users holding BCC in their account also get interest on their balance in return for helping maintain the security of the network.
There are currently five exchanges, where investors and traders can buy, sell or exchange it for a different digital currency.
However, there is no information available on BitConnect Site about the founder of the BitConnect, the owner or about the physical location of its office, just like bitcoin.
Future of BitConnect Coin in MLM Industry 
Bitconnect is a Bitcoin-focused multi-level marketing company. It presents substantial assets and e-currency brought together into one complete wealth building strategy
MLM companies have both haters and supporters and yet it is a sign of any industry's growth curve. MLM companies will definitely bring more awareness about cryptocurrency to the public in general, besides creating new investment in cryptocurrency. It may likewise also bring new problems to an industry that already has its fair share of them.
Since MLM companies have constantly been under the radar of criticism and lawsuits in many industries few cryptocurrency enthusiasts are skeptical about dealing with MLM companies when it comes to cryptocurrency.
However, we need to remember that MLM, also known as "pyramid selling," "network marketing" and "referral marketing" has existed since the 1920s. It still continues to find a place in many industries. At present, the role of MLM in cryptocurrency still remains to unfold.
How does the BitConnect ecosystem work?
BCC price is a perceived regard for its supply and demand features designed during bitconnect coin algorithm along with the bitconnect lending platform.
The future value of BCC is a result of many aspects coin supply mining and minting algorithm, BitConnect community network, and its features.
Why will it have upward graph in the future? 
Because there is a fixed steady supply of new coins with a strong demand channel of more members joining the bitconnect ecosystem to lend or buy the BCC.
Simply put, the system functions in such a way that it will self-regulate the bitconnect ecosystem leading to the creation of more wealth in the entire bitconnect community in near future.
How are the BitConnect Coins used? 
The BitConnect community members can use the BCC to store and later invest the capital in other forms of cryptocurrency.
How are BitConnect Coin produced? 
The BitConnect Coin network uses special algorithm viz POW/POS. Once you obtain BCC it becomes an interest giving asset with 120% return per year through Proof of Stake minting.
To earn with this system all you need to do is to hold coins in your Bitconnect-QT wallet.
Besides PoS minting, CPU/GPU is also used to mine  BCC and does not need an ASIC miner, unlike Bitcoin.
Bitconnect promises its Members that they can earn daily profits by investing either bitcoin or USD into the company. The amount of money the members invest in BitConnect decides the daily profit or ROI the member can earn.
BitConnect offers four main investment levels:
Investment between $100 and $1000 assures monthly ROI of 40% paid out for 299 days
Investment between $1010 and $5000 assures monthly ROI of 40% paid out for 239 days. They are also eligible for an additional bonus ROI of 23.9%.
Investment between $5010 and $10,000 assures monthly ROI of 40% paid out for 179 days. They are also eligible for an additional bonus ROI of 35.9%.
Investment between $10,010 and $100,000 assures monthly ROI of 40% paid out for 120 days. They are also eligible for an additional bonus ROI of 30%.

BitConnect also pays Referral commissions in addition to the existing ROI model.
BitCoinnect referral commission is an unlevel structure. It places an affiliate at the top of a uni-level team. Every personally recruited affiliate placed directly under them (level 1):
The affiliate's personal new recruit is level 2 and the personal new recruit of the Level 2 is automatically placed under as Level 3 and so on and do forth. The level can theoretically go one for infinity.
Referral Program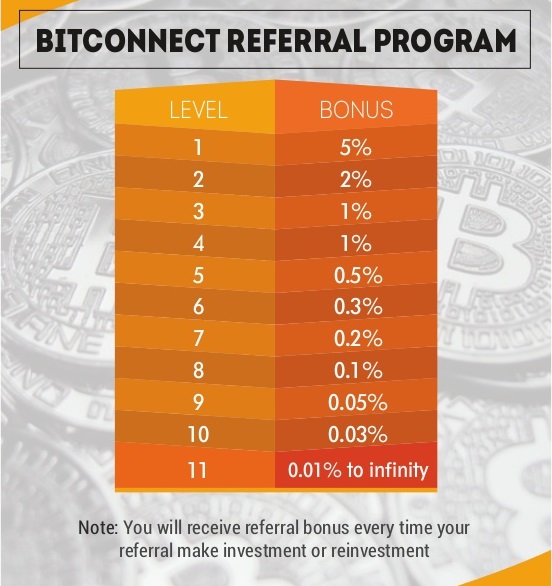 Events & Workshops Photo Gallary
Recent News Coverage
BitConnect Markets
To know more about BitConnect Coin email or call on the below-given detail
More: